GearCity Executive Secretary is a utility that provides additional reports based on your GearCity game, allowing you to make more informed decisions, or just see how far you've progressed in make Superleggera frames the dominant chassis type in the industry.  I'm pleased to announce a substantial update.  Update, you say?  Indeed; you may have seen it before in its
Steam thread
.  I'm making this the new main thread since it should be possible to include screenshots here.
You can
download the latest version here
 (7.15 MB, 9/15/2022).  To run it, you'll also need Java 8, which you can download
from Azul here
, or
from BellSoft here
(make sure to select "Full JRE"; this is pre-selected in the Azul link).  The Secretary may work with later versions of Java as well, but only if they include JavaFX, which is included in these links.
GearCity Executive Secretary now features 8 reports.
Company Profitability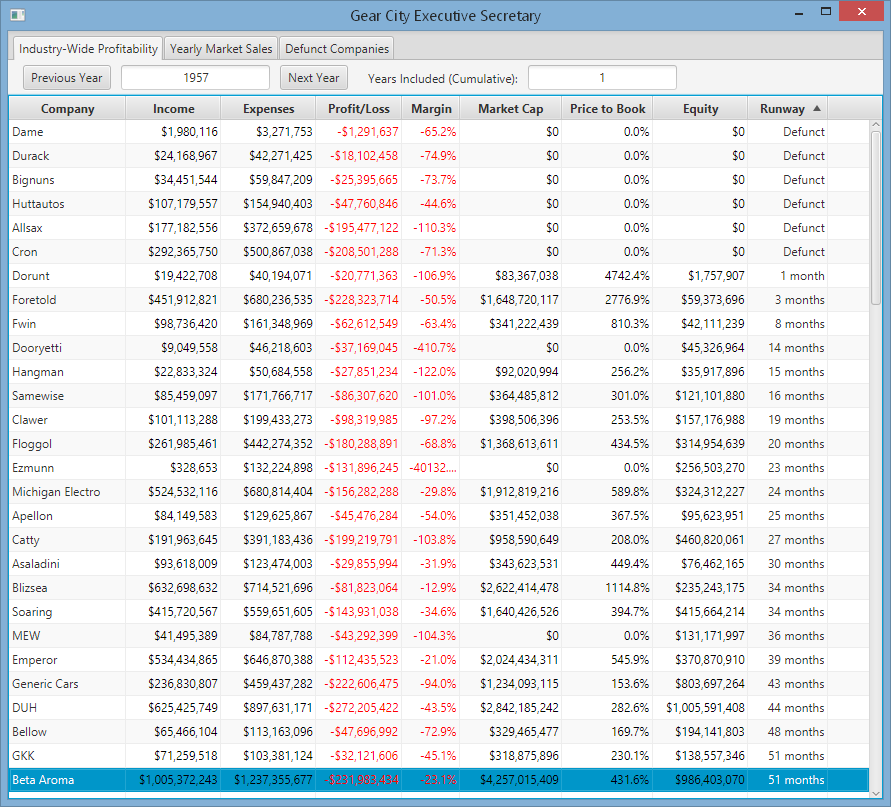 This report shows each company's profitability, revenue, expenses, and profit margin for any year you select or a combination of multiple years (enter a number for "Years Included" and press Enter to update).  It also shows Market Cap, Price to Book, Equity, and Runway (predicted time until the company goes bankrupt at its current rate of losing money), to help you identify appealing takeover targets.  
All columns are sortable.
Profitability numbers do not include stock sales, stock issues such as IPOs, or stock purchases, so they more accurately reflect true profitability than the in-game reports (although over the long term, they also don't reflect gains or losses made via stock market investments).
New in this update is that you can double-click on a row to get Company Detail report on the company in that row.
Yearly Market Summary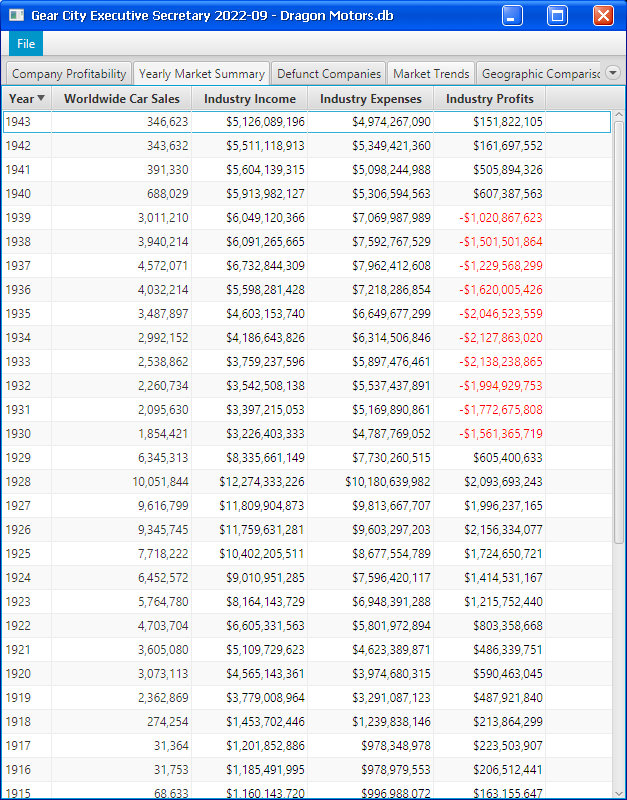 The Yearly Market Summary gives overall market conditions for each game year, namely vehicle sales, industry revenue, expenses, and profitability.  This lets you get a sense of the impact of economic conditions.
There are no new features for this report in this update.
Defunct Companies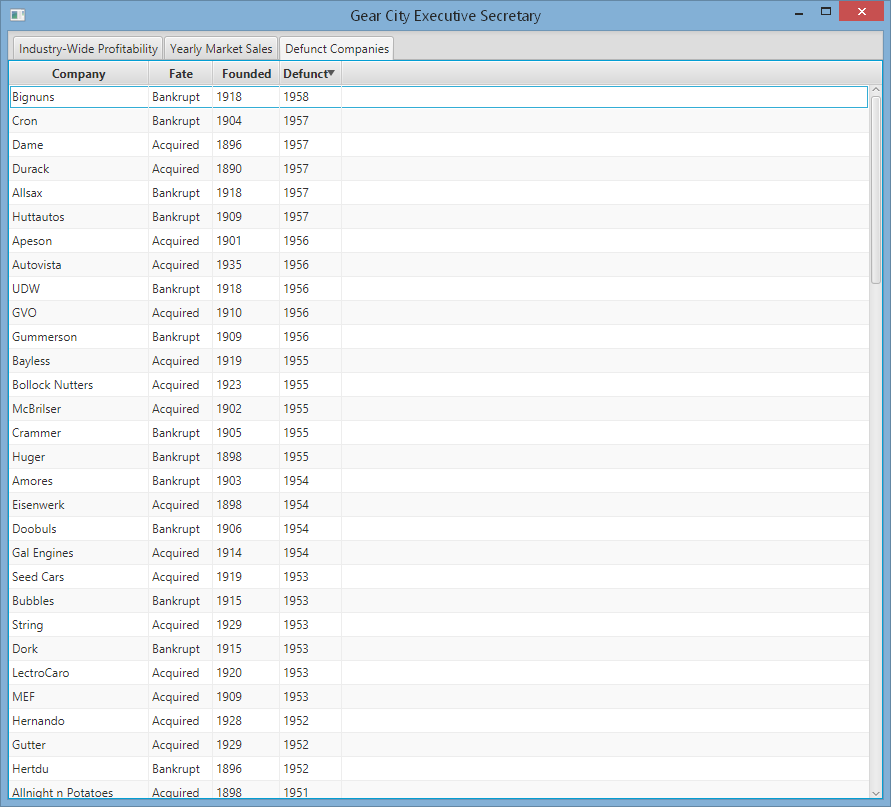 The Defunct Companies report shows you the fate of all defunct companies - if they were acquired, went bankrupt, and when.
There are no new features for this report in this update.
Market Trends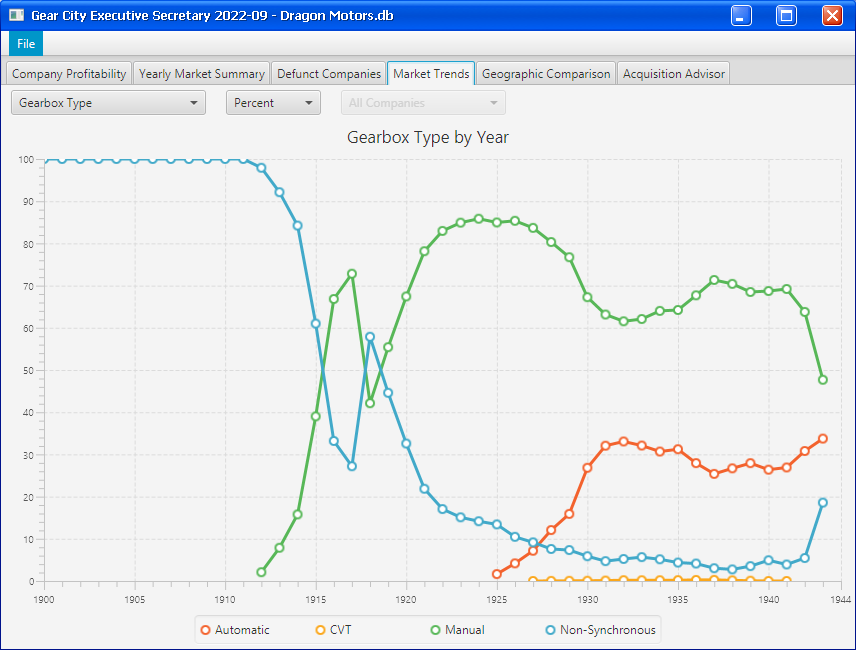 The Market Trends, formerly "Engine Layouts", report contains 19 sub-reports (up from 4 in last September's update) that show the trends in popularity of various components and metrics.  The reports available are:
 - Layout
 - Cylinders
 - Layout and Cylinders (e.g. V4, I5)
 - Fuel Type
 - Valvetrain
 - Induction System
 - Chassis Type
 - Chassis Drivetrain
 - Front Suspension
 - Rear Suspension
 - Combined Suspension
 - Gearbox Type
 - Gear Count
 - Average Gear Count
 - Average Fuel Economy
 - Average Horsepower
 - Average Torque
 - Average Top Speed by Type
 - Sales by Type
Other than the "Average" reports, all of these can be viewed in either absolute numbers of sales, or as a percentage of the overall market.  Fuel Type, Valvetrain, and Induction system also offer the ability to view the results for only one of your marques, rather than the entire market.
In all cases, you can click on items in the legend to hide them, and the graph will automatically adjust the y-axis as appropriate.  This lets you easily view the trend even for items that currently have very low market share, useful in those early years of your attempt to take over the world with superleggera.
Geographic Comparison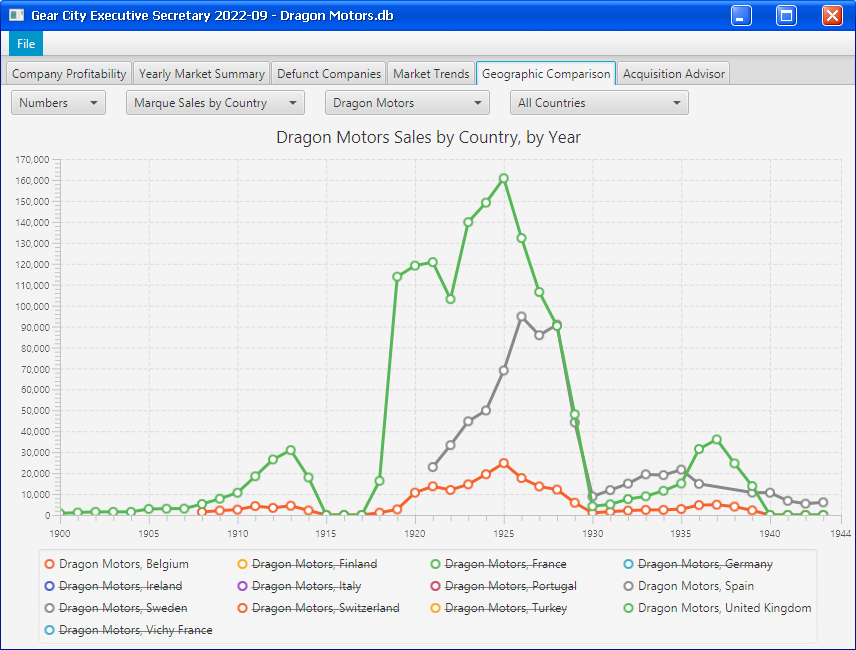 The Geographic Comparison report lets you view sales by marque and by country.  One potential use of this is seeing how your marketing campaigns are influencing sales over time.
This report can be a bit slow to load, especially in the late-game, due to the amount of data involved, and by default it shows sales by marque, across all countries combined.  But you can instead view one marque by-country (as above), or even all marques by country, if you have a relatively small number of marques * countries.  If you have too many marques * countries on too small of a screen, the legend will unfortunately be hidden.
This report is new in this update.
Acquisition Advisor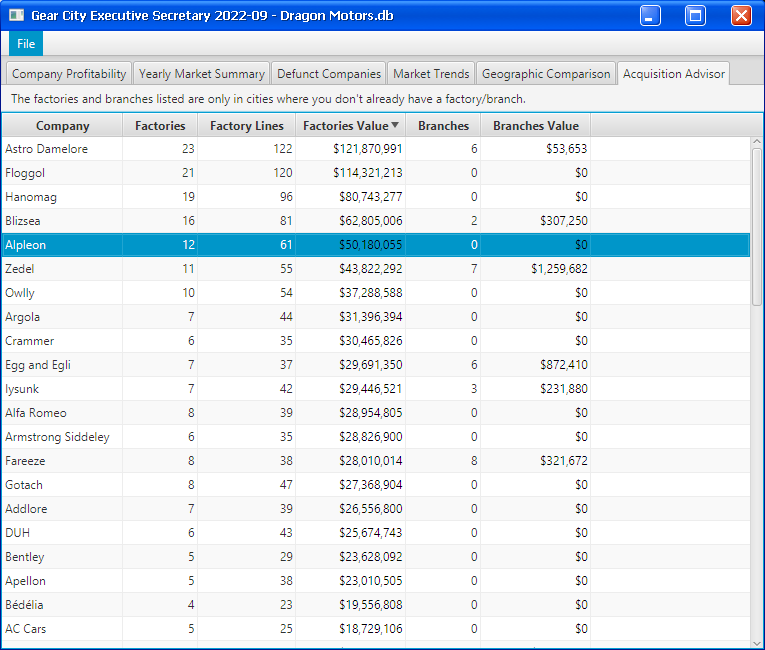 The Acquisition Advisor Report helps you identify the value of acquiring other companies for their physical assets, factories and branches.  It shows you all the new factories/branches you would acquire by acquiring that company, and only includes factories/branches where you do
not
 already have a factory/branch in that city.
This saves you the time of filtering that yourself from the in-game stock market report, although currently the Secretary does not tell you where those factories are located as the in-game stock report does.
You can double-click on a row to view a Company Detail Report for a company.
This report is new in this update.
Company Detail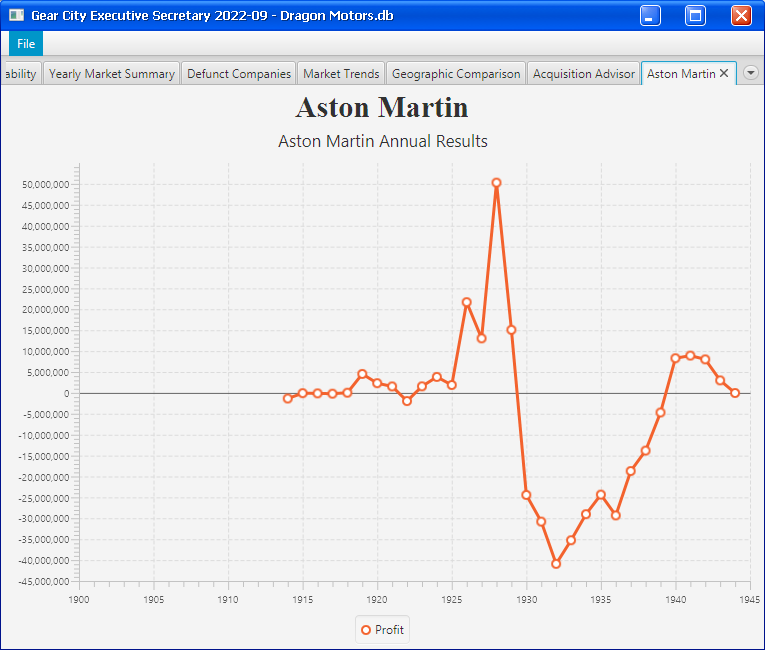 The Company Detail report shows a trendline of a company's profitability over time, again excluding stock transactions.  This provides a graphical view of long-term profitability, and complements the "Company Profitability" report.
This report only appears after you double-click on a company in the "Company Profitability" or "Acquisition Advisor" reports, and you can open as many of them as you wish.
This report is new in the September 2022 update.